Corporate Wellness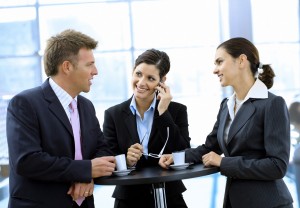 Healthcare costs are currently estimated at $3,000 to $4,000 per employee each year. In addition, an estimated $18.2 billion in productivity is lost yearly due to employee health-related issues. Yet, studies show that 80 percent of all illness is preventable by adopting a healthier lifestyle. Research shows that organizations that implement corporate wellness programs gain benefits through lowered healthcare costs, increased productivity, improved morale and reduced absenteeism.
Healthier employees have more energy and are more productive. Because they feel better physically and mentally, they experience fewer mood swings, resulting in better staff and client relations. They take fewer sick days, seek medical attention less often and work more efficiently.
Debbie provided multiple workshops and consultations for my clients' corporate wellness programs. She is reliable, highly approachable and has an innate ability to motivate people and present information in the best manner for each specific audience. She receives rave reviews from individuals who have participated in her services outside of the corporate environment as well. I highly recommend her.

Kristin Myren
Health & Wellness Manager, Elevation Corporate Health
Investing a small amount to help keep your employees healthy and fit will greatly contribute to the success of your company. By providing a wellness coach who will teach, support and inspire your employees, you empower your company to take healthcare into its own hands by creating a happy, productive environment where everyone wins!
Speaking Presentations
Debbie will speak at your luncheon or one-time event and is also available to teach a series of classes in the workplace covering a wide range of topics. These classes are valuable to employees and employers alike, as they assist participants in eating more healthily and making lifestyle changes that will greatly improve health, energy and performance. Her presentations are educational, inspiring and enjoyable. In conjunction with group presentations, Debbie can work individually with employees to support and guide them in reaching their specific wellness goals.
Health topics for Speaking Engagements (examples — more topics available):
Fats: The Good, The Bad and the Ugly
Could You be Gluten Intolerant?
The Truth About Sugar
Creating Lifelong Vitality
Nutrient Packed Power Foods for Optimal Health
Maintaining Energy and Health During Times of High Stress